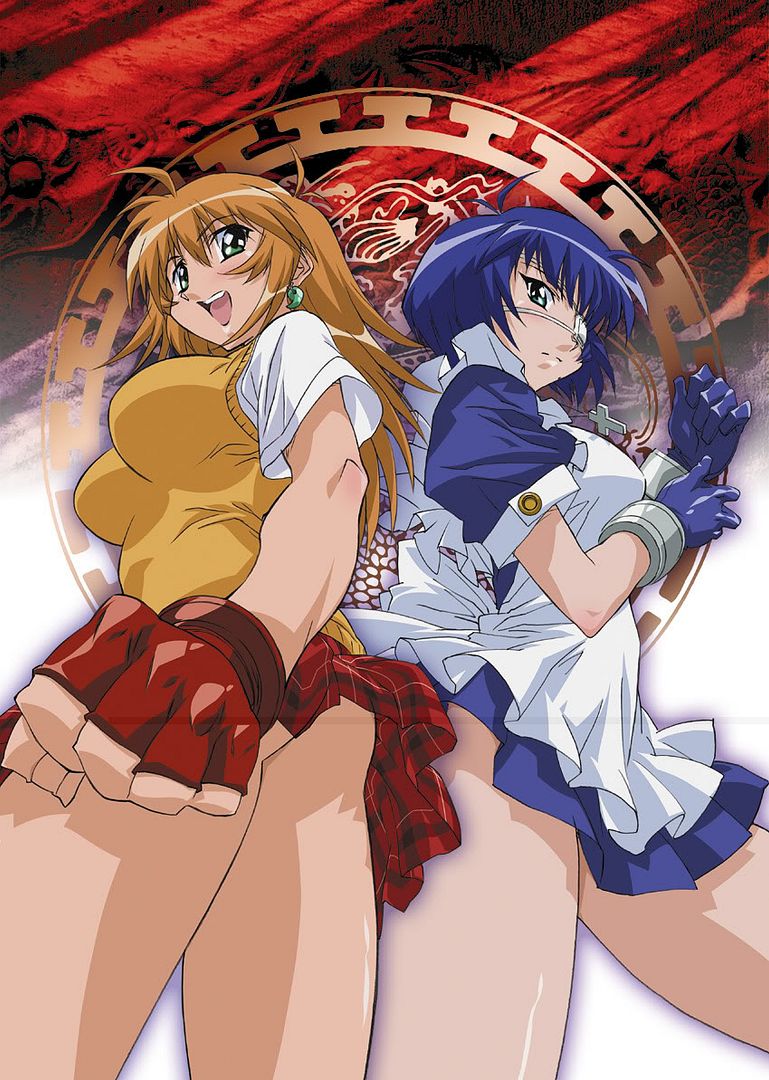 * Loosely based on the manga by Shiozaki Yuji (塩崎雄二) which is in turn based on the classic Chinese novel Romance of the Three Kingdoms.

Seven schools are constantly 'at war' with each other, and the students within - both male and female - have become skilled fighters and constantly battle with rival schools. Their lives and fates are guided by strange jewels that contain the spirits and destinies of warriors from the Sangokushi period. One girl, Sonsaku Hakufu, has recently moved to Japan and is apparently destined to unite the schools as her counterpart united seven countries long ago. But, like all heroes, there is a darker side to her fate, and as always there is a constant struggle by those around her to break the chains of their own destinies and make their own lives.


Type : TV Series, 13 episodes
Year : 30.07.2003 till 22.10.2003
Categories : Action, Ecchi, Martial Arts, Pantsu, Seinen, Violence
Source : Anidb.



Download :


Comment if taking the links.
No leeching, please!
Mirror MU :
Audio: Japanese
Size: 200Mb
Format: Mkv
Sub : English Subtitle



Episode 01 :

http://rapidshare.com/files/242473619/Ikkitousen_01.part1.rar
http://rapidshare.com/files/242478653/Ikkitousen_01.part2.rar
Episode 02 :
http://rapidshare.com/files/242507959/Ikkitousen_02.part1.rar
http://rapidshare.com/files/242514463/Ikkitousen_02.part2.rar
Episode 03 :
http://rapidshare.com/files/242557397/Ikkitousen_03.part1.rar
http://rapidshare.com/files/242570950/Ikkitousen_03.part2.rar
Episode 04 :
http://rapidshare.com/files/242634095/Ikkitousen_04.part1.rar
http://rapidshare.com/files/242647115/Ikkitousen_04.part2.rar
Episode 05 :
http://rapidshare.com/files/242859209/Ikkitousen_05.part1.rar
http://rapidshare.com/files/242864727/Ikkitousen_05.part2.rar
Episode 06 :
http://rapidshare.com/files/242952450/Ikkitousen_06.part1.rar
http://rapidshare.com/files/242961827/Ikkitousen_06.part2.rar
Episode 07 :
http://rapidshare.com/files/243014073/Ikkitousen_07.part1.rar
http://rapidshare.com/files/243207520/Ikkitousen_07.part2.rar
Episode 08 :
http://rapidshare.com/files/243081046/Ikkitousen_08.part1.rar
http://rapidshare.com/files/243091624/Ikkitousen_08.part2.rar
Episode 09 :
http://rapidshare.com/files/243234351/Ikkitousen_09.part1.rar
http://rapidshare.com/files/243239493/Ikkitousen_09.part2.rar
Episode 10 :
http://rapidshare.com/files/243295753/Ikkitousen_10.part1.rar
http://rapidshare.com/files/243304737/Ikkitousen_10.part2.rar
Episode 11 :
http://rapidshare.com/files/243355746/Ikkitousen_11.part1.rar
http://rapidshare.com/files/243366163/Ikkitousen_11.part2.rar
Episode 12 :
http://rapidshare.com/files/243422180/Ikkitousen_12.part1.rar
http://rapidshare.com/files/243432756/Ikkitousen_12.part2.rar
Episode 13 :
http://rapidshare.com/files/243583699/Ikkitousen_13.part1.rar
http://rapidshare.com/files/243590937/Ikkitousen_13.part2.rar