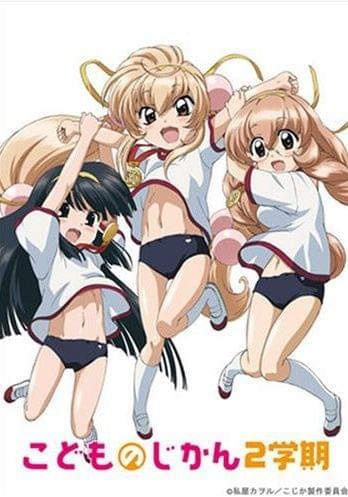 Main Title
Kodomo no Jikan: Ni Gakki
Official Title

Type
OVA, 3 episodes
Year
20.02.2009 till 24.07.2009
Categories
Ecchi, Elementary School, Lolicon, School Life, Seinen
Resources
Official page, ANN, AnimeNFO, Anidb.


* Based on the seinen manga by Watashiya Kaworu, serialised in Comic High!.

The OVA covers the "4th grade" storyline from the manga, where Rin, Kuro and Mimi are a year older and now attend the 4th grade. Rin still wants to make Aoki her boyfriend (and she does it in perverted ways), Kuro-chan finds Shirai-sensei to be her idol, and Mimi-chan still does not have any confidence in herself.

Info: Due to the heavy censorship in the 1st TV series, Japanese producers decided on a DVD-only OVA instead of a 2nd season TV series. The 1st volume was released on February 20, 2009, while the special episode with Shirai-sensei and Kuro-chan was released on January 21, 2009.